Yield: About 6 servings
Quinoa Chili  – This is one of our favorite recipes passed on from a friend who dropped off this dish to help out Monika after she had surgery on her hands. We loved it as it is described below and since then we have ventured to add even more spicy heat but it isn't necessary for most tongues that might venture down the chilly path. We have since served it to many friends that can't imagine eating chilly without beef but they couldn't tell and immediately asked for the recipe as it was the best tasting chilly they ever had. Not a bad endorsement for this recipe. We enjoy it on a regular basis and have added it to our household repertoire.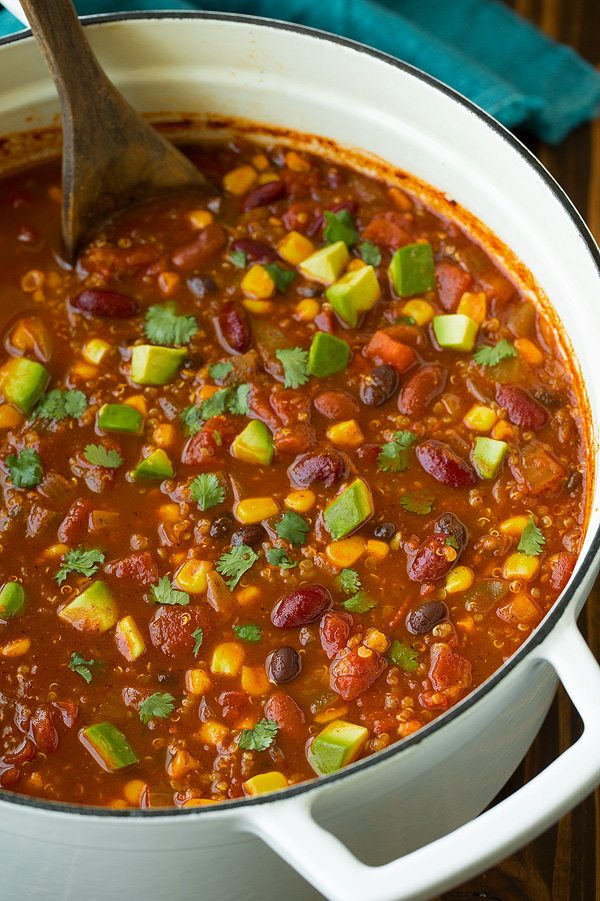 ---
Ingredients 
• 2 cups cooked quinoa
• 1 Tbsp extra virgin olive oil
• 1 large yellow onion, diced (1 3/4 cup)
• 4 cloves garlic, minced
• 2 (14.5 oz) cans diced tomatoes
• 1 (15 oz) can tomato sauce
• 1 1/2 – 2 cups water (or chicken broth if not making vegetarian)
• 1 (7 oz) can diced green chiles
• 2 1/2 Tbsp chili powder
• 2 tsp ground cumin
• 2 tsp cocoa powder
• 1 112 tsp paprika
• 112 tsp granulated sugar
• 1/2 tsp ground coriander
• 1/2 tsp cayenne pepper, or to taste (optional)
• Salt and freshly ground black pepper, to taste
• 2 (15 oz) cans kidney beans, drained and rinsed (I used one dark red, one light red)
• 1 (15 oz) can black beans, drained and rinsed
• 1 1/2 cups fresh or frozen corn
• 1/2 cup cilantro, chopped
• Juice of 1 lime
Directions 
• Heat olive oil in a large enameled cast iron pot over medium-high heat. Once oil is hot add
onion and saute until tender, about 4 minutes, adding in garlic during last 30 seconds of
sauteing. Add in diced tomatoes, tomato sauce, cooked quinoa, water (start with 1 1/2 cups
then add more later if desired), green chiles, chili powder, cumin, cocoa, paprika, sugar,
coriander, cayenne pepper and season with salt and pepper to taste. Bring mixture just to a
boil, then reduce heat to a simmer, cover pot and allow to simmer 30 minutes.
• Add in all beans, corn, cilantro and lime and cook until heated through. Serve warm with
optional toppings and sides (cheddar, sour cream, diced avocados, saltine crackers or tortilla
chips).
• Recipe Source: Cooking Classy