Yield: 8 Servings
Rockin Moroccan Stew – If you want a great taste of the Mediterranean Vegan palate then this one is a winner and loved by anyone brave enough to try it. It sounds exotic, and it is, but it isn't. For those afraid of chick peas – don't be. That is what Hummus is made of – for those afraid of Hummus – don't be. It is the butter for bread in countries too hot for butter and no refrigerators to store it in. Those Mediterranean and Arab cultures have a great thing going with foods like this. Full of Protein, no sugar, no cholesterol, just the right amount of fiber, all the necessary vitamins, healthy fat and lots of iron to keep your blood oxygen rich as well as some really amazing spices to tantalize your taste buds. You will be surprised at how great this tastes and then you'll be asking for more recipes from that part of the world. Serve it on a plate with rice on the side. We love to put rice on a plate and smother it with this stew – that tends to make it a perfect meal in our house. You can also just eat it with a flat bread instead of rice – like they would.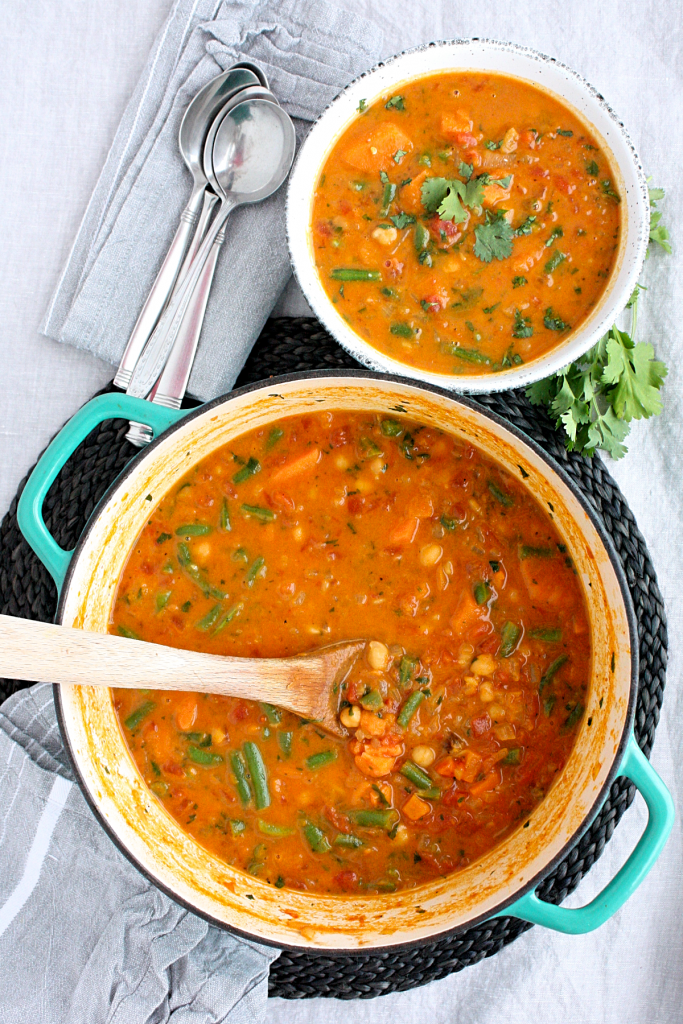 ---
2     teaspoons olive oil, light
1     cup onions, chopped
1/2     cup celery, diced
1/2     cup green bell peppers, chopped
1     clove garlic, minced
3     cups Vegetable Broth
3     cups sweet potatoes, peeled cubed
1    19 oz. can tomatoes, drained and cut up
1    19 oz. can chickpeas, drained and rinsed
1    tablespoon lemon juice
2     teaspoons grated ginger root
1    teaspoon ground cumin
1    teaspoon curry powder
1    teaspoon ground coriander
1    teaspoon chili powder
1/2     teaspoon salt
1/4     teaspoon black pepper
1/4     cup raisins
2     tablespoons peanut butter, light
2     tablespoons fresh cilantro, chopped
Heat olive oil in a large, nonstick saucepan over medium-high heat. Add onions, celery green pepper, and garlic.
Cook and stir until vegetables begin to soften, about 3min. Add all remaining ingredients except cilantro raisins, and peanut butter.
Bring to a boil. Reduce heat to low and simmer covered for 20 minutes. Stir in raisins, peanut butter and cilantro. Mix well simmer for 5 more minutes. Serve hot
Amount Per Serving
Calories 408     Calories from Fat 78
Percent Total Calories From:
Fat 19%     Protein 16%     Carbo 65%
Nutrient                  Amount per    % Daily Value 
.                               Serving
Total Fat                      9 g                  13%
Saturated Fat               1 g                    6%
Cholesterol                  1 mg                  0%
Sodium                   876 mg                 36%
Total Carbohydrate     66 g                   22%
Dietary Fiber                4 g                   17%
Sugars                        0 g                    0%
Protein                      16 g                  25%
Vitamin A 214%     Vitamin C 68%     Calcium 0%     Iron 31%