Yield: 4-6 meal portions
This Sweet Potato Quinoa and Veggie Enchilada Bake is a healthy, easy and delicious vegan dinner! It's full of veggies and can be made a few days in advance. Get the recipe: https://www.shelikesfood.com/sweet-potato-quinoa-veggie-enchilada-bake/ and watch the video on that web page for a complete how to. It's easy!!!
---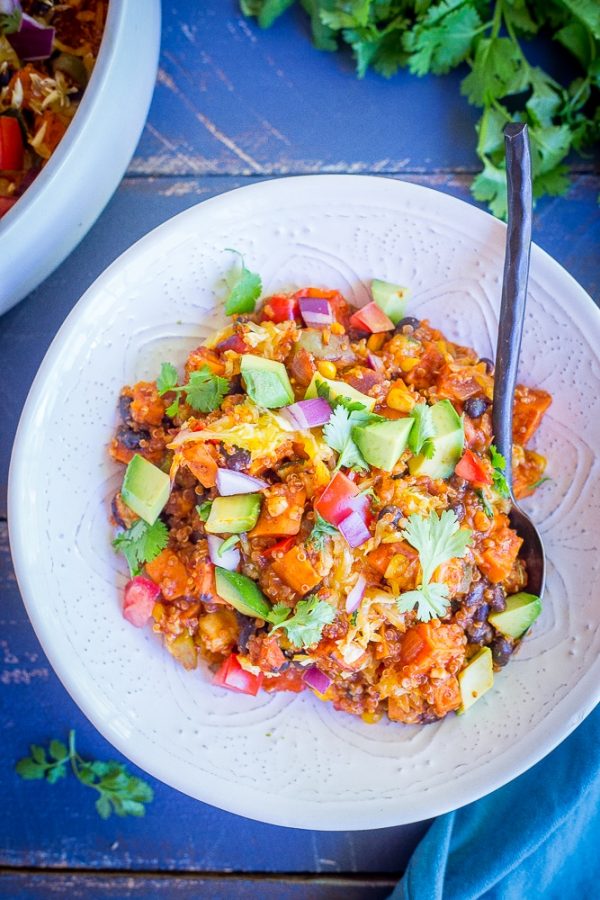 Prep Time: 15 mins
Cook Time: 45 mins
Yield: 4-6
Category: Dinner, Vegan, Vegetarian, Dairy Free, Gluten Free
DESCRIPTION
A delicious and filling Mexican inspired dinner!
---
INGREDIENTS
1/2 cup dried quinoa
4 cup cubed sweet potato, about 2 large ones
1 red pepper, diced
1 green pepper, diced
1 zucchini, diced
1/2 red onion, diced
1 (15 oz) can black beans, drained and rinsed
1 cup corn kernels
1 cup grated cheese, divided (I used vegan cheese)
2 1/2 cups enchilada sauce
1 teaspoon ground cumin
1 teaspoon paprika
1 teaspoon garlic powder
3 teaspoons olive oil, divided
1 1/2 teaspoon salt, divided
Black pepper
Optional garnishes: cilantro, red onion, tomato, avocado, jalapeno
INSTRUCTIONS
Rinse quinoa and place it in a small pot with 1 cup of water.  Bring to a simmer and cook until water is absorbed and quinoa is cooked through, about 15 minutes.  Set aside.
Pre-heat oven to 375 degrees F.  On a large baking sheet, toss together the cubed sweet potato with 2 teaspoons olive oil, 1/2 teaspoon salt and 1/4 teaspoon pepper.  Bake sweet potato for 20 minutes.
While sweet potato is baking, add all the diced bell peppers, zucchini and onion to a bowl and toss with 1 teaspoon olive oil and a pinch of salt and pepper.
Add the vegetables to the sweet potatoes, stir and make sure they're in an even layer.  Place back into the oven 10 minutes.
Increase the oven temperature to 400 degrees F.  Place the sweet potatoes and veggies into a large baking dish and stir in the cooked quinoa, black beans, corn, 3/4 cup of the cheese, enchilada sauce, spices, 1 teaspoon salt and 1/2 teaspoon pepper.  Top with the remaining 1/4 of the cheese and place back in the oven until heated through and cheese is melted, 10-15 minutes.
Top with your favorite garnishes and enjoy!
NOTES
This recipe can be made up to 2 days in advance and refrigerated until you bake it.
*Nutritional information is for 6 servings
NUTRITION
Serving Size:

 1/6 of the recipe

Calories:

 601

Sugar:

 5

Sodium:

 1533 mg

Fat:

 10 g

Saturated Fat:

 2 g

Carbohydrates:

 112 g

Fiber:

 19 g

Protein:

 23 g